What is Yoga?
The word yoga is derived from the sanskrit "€ yuj"€, meaning € to yolk € or €˜to join. Yoga is an ancient science based on universal principles, the Laws of Nature.
Yoga is a powerful, transformative and life enhancing health practice, as valuable today as it was in ancient times. Yoga is endlessly adapatable, available to everyone, regardless of age or ability. The effect of yoga is that of €œbringing together €, bringing balance into the body and into our lives. Finding greater harmony with nature and awakening individual potential.
The intelligence of yoga lays in the integration of mind, body and breath. Yoga is a wholistic practice, that centres, calms and creates balanced harmony in all who practice. €
The goal of yoga practices is to train the body and mind to self observe and become aware of true nature. Cultivating discernment, awareness, self-regulation and higher consciousness. Yoga improves all aspects of our health and wellbeing. We are part of nature, so developing awareness to live in harmony with nature is important for our life balance and wellbeing, developing individual potential and connection with the universal.
The power of yoga is available to everyone and is not dependent upon age, strength or flexibility€.
Gwynne
Specialist Yoga Teacher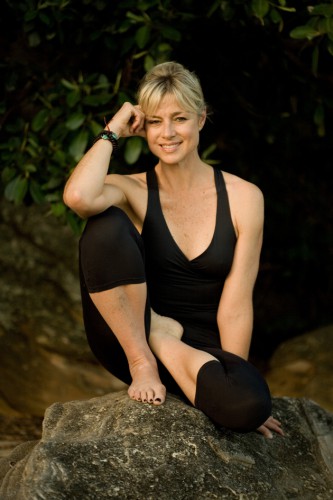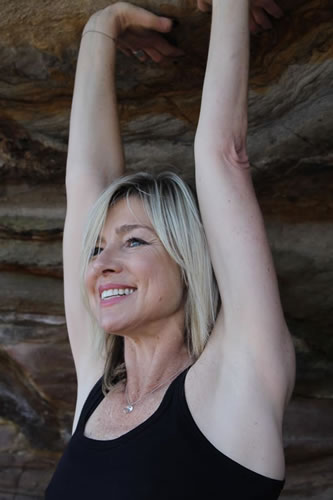 Gwynne teaches open classes, private yoga, yoga therapy, breath work/meditation sessions and Seasonal Yoga Intensives in Sydney on the Northern Beaches and Tilba Tilba, on the NSW South Coast.
Open classes and intensives are accessible to all, beginners to advanced, everyone is welcomed.
For more inspiration and updates sign up for the Yogi Byte newsletter and follow on Instagram.
Yoga Style: 5 Elements Seasonal Yoga, blending Hatha and Japanese Ryoho yoga for health, harmony and well being with nature and the seasons.
Gwynne also teaches Yin Yoga, Yoga Therapy, Yoga for Back Pain + Spine Health, Yoga for Cancer and chronic persistent Pain; using the wide range of yogic tools, breath practices, mindfulness, meditation and stress reduction techniques for stress management, fatigue and improved quality of life.
Her popular seasonal yoga intensives aim to balance and harmonise body and mind with each season and the environment.
Yoga with seasonal theme brings students into healthful balance with nature; aligning with each season for true harmony. Awareness, integration and centering are key to yoga –  practices are infinitely adaptable to meet individual or group for optimised natural health and life balance.
Correct breathing is integral to practice, ones health and a calm mental state, and so pranayama is practiced in all yoga.
Gwynne is available for private yoga, yoga therapy, and corporate yoga in all locations by appointment. 
Corporate yoga brings all the positive benefits of yoga to the work place, specialised sessions for corporate event days and retreats.
Passion
Gwynne has a deep love of yoga and believes in it's power to transform health and wellbeing on all levels – the personal interplay of the body and it's energies.
A passionate and inspirational teacher with broad knowledge, her teaching style and methodology are creative and intuitive, teaching with sensitivity and humour, aligning yoga with the day, season and the elements.
Gwynne is known for her caring and inspirational style, creating an atmosphere of calm in every class.
Offering variations to suit all levels of experience (beginners through to advanced) her methods allow anyone to enjoy the transition from separation to integration while maintaining the unique qualities of individuality and creativity.
"Be true to yourself, always.
Prioritise your health and wellbeing.
Find a way to contribute, make a difference to the world.
Be kind, live and act with compassion. Learn and practice meditation."
Gwynne
Gwynne's passion is to bring the yoga to as many people as she can in her lifetime.
Gwynne is a level 3 senior teacher and qualified yoga therapist. She is memeber of both Yoga Australia and Australian Yoga Therapists Associations.
Journey to Yoga
Gwynne began exploring the art and science of yoga and whole food nutrition in 1999. With over 22 years experience Gwynne combines her knowledge from the Indian Hatha tradition, Japanese 5 element tradition and the Eastern schools of philosophy.
Gwynne has studied:
A broad range of yoga from the main schools
Traditional Hatha and Ayurvedic Yoga
Japanese Yoga, Ryoho Yoga and 5 Element Theory
Yin Yoga + Meridian Theory
Yoga Therapy
Macrobiotics, Ayurveda and Whole foods Nutrition
Food as Medicine
Yoga Philosophy and Sutras of Patanjali
Sanskrit
Buddhism
Advanced Pranayama (Breathing Techniques)
Meditation
Mindfulness Awareness and Stress reduction techniques
iRest Yoga Nidra Meditation level 1
Buddhism
Reiki I, II, III
"€œI know the effect Yoga has on my health, my energy and even more so on my mind and emotional balance. Taking care of our physical, emotional and spiritual lives are of profound importance to have balance in life. It is simply an important investment for our health, longevity and life balance.
Gwynne
"€œTeach this triple truth to all: a generous heart, kind speech, and a life of service and compassion are the things which renew humanity.€¨
The Buddha